Security beefed up around Uppal
eTelangana.org | Published: 6th December 2019 | Posted Date: Friday 6th December 2019 05:27 PM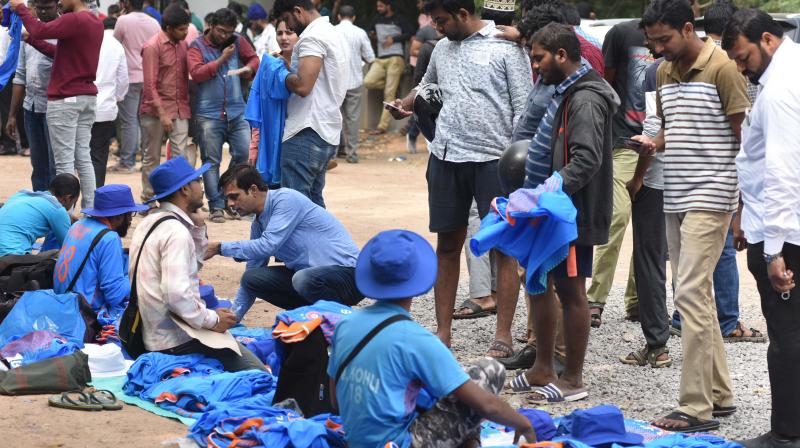 Cricket enthusiasts thronged the Gymkhana Grounds to buy tickets for Friday's cricket match while vendors cashed in on the cricket fever by selling India cricket team shirts and caps.
Hyderabad: As many as 1,800 police personnel, including teams from OCTOPUS (Organisation for Counter-Terrorist Operations) will be guarding the RGI stadium in Uppal during the T-20 International cricket match between India and West Indies on Friday.
The Rachakonda police has put 255 personnel from the security wing, 350 personnel from traffic, 909 from law & order, four platoons of armed forces, teams from OCTOPUS, mounted police, special branch, and central crime station, to guard the stadium.
Some 300 CCTV cameras have been installed at different places including vehicle checkpoints and parking lots, which will be monitored from a joint command and control room.
Separate teams will also be deployed for checking the movements of antisocial elements.
Rachakonda police commissioner Mahesh Bhagwat said that laptops, banners, water bottles, cameras, cigarettes, lighters, and electronic items will not be allowed inside the stadium. SHE teams will be present at the stadium to ensure women's safety.
Parking arrangements have been made for the spectators and traffic restrictions are being imposed for heavy vehicles moving along the stadium route during match time, he said.
Heavy goods vehicles coming from ECIL, Kushaiguda, Cherlapally towards Uppal crossroad would be diverted via Mallapur bridge, Chengicherla cross roads (Warangal route) and LB Nagar junctions.
Courtesy:https://www.deccanchronicle.com/nation/current-affairs/061219/security-beefed-up-around-uppal.html